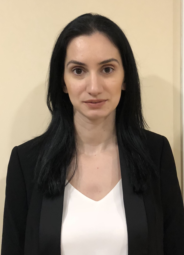 Amela Srdanovic
Licensed Real Estate Salesperson
O: 347.873.9723
M: 347.873.9723
Amela was born in Berlin Germany in the early 1990s. She grew up in Montenegro where she has deep roots and plenty of family. Amela graduated from the College of Law, Criminalistics and Security, and then she emigrated to NYC in 2014. She lives in Kew Gardens Queens where there is a deep community of friends and family from Montenegro who are tightly knit through many inter-connected families. They are proud of their love for family, their loyalty, and their strong work ethic to succeed. Amela brings this drive for success to her profession. She is excited to work in the NY real estate industry. She takes the needs of her clients very seriously and is willing to work diligently to meet and exceed their expectations.
Amela is fluent in Croatian and has sharpened her English language skills. She is happily married and the proud mother of two beautiful children. In her free time she likes going to the gym and reading books.
You will be happy to work with Amela!
Languages Spoken:
English